Bariloche JGR
GRAND PRIX STALLION, CHAMPION OF CHAMPIONS OF THE LUSITANO BREED
Grand Prix Lusitano
Bariloche is competing Grand Prix Level under the saddle of Vasco Mira Godinho. This team is achieving amazing results national and internationally.
Champion of Champions
Multi-awarded Lusitano: Bariloche won several gold medals and become Champion of Champions of the Lusitano Breed in 2009.
Outstanding Bloodlines
Bariloche is bred by João Pedro Rodrigues, combining lines of Xaquiro and Hostil – a powerful genetic combination.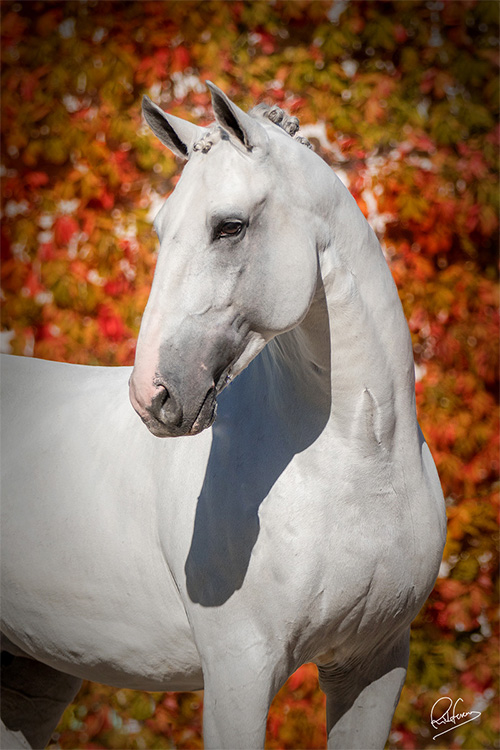 Approved Stallion
Approved with 78.5 points as a breeding stallion – score that highlights the fabulous model and superb movement of this incredible horse.
Recommended Stallion
Bariloche is 4 stars recommended stallion at Model and Gaits by the Portuguese Lusitano Association (APSL).
Size matters
This stallion transmits to his progeny not only beauty and movement but also good dimension. Bariloche himself measures 1.70m at withers.
All you need to know about Bariloche JGR
Photo Gallery
Amazing photos of our stallion Bariloche JGR
Progeny
Better than tell you how fabulous offspring Bariloche produces – we would like to show you! Get to know some of Bariloche progeny in the photo gallery bellow.
Team Rubi
Team Rubi is constituted by four dressage binomials of Dressage riders & Lusitano horses working to compete at international level competitions.
Some of our horses are not only top dressage athletes – they are also recommended stallions with semen available.
Latest News
March 03,2019
---
February 01,2019
---
January 05,2019
---